About Michel Ebben
Biography 2017
Prologue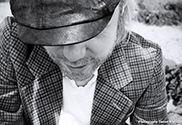 He is intense, raw, a live performer and a witty entertainer that captures his audience with a howl and a joke! A unique voice, influenced both by old time music as by his contemporaries. Drifting from folk to blues, from country to Americana. The lonesome traveler carrying only a guitar, harmonica and banjo. Playing solo or with his band Gravel Town.
Over the course of his life
"When I was 9 years old I discovered the music of Bruce Springsteen. Heartfelt stories of the 'common man' and the American Dream touched me and there I've started my musical adventure. Growing up with music from the Rock & Roll era I listened to Elvis Presley, Roy Orbison, Buddy Holly and Jerry-Lee Lewis. My mum and dad also enjoyed listening to contemporary artists like Bob Dylan, Leonard Cohen, Tom Waits, and of course The Beatles and The Rolling Stones."
A hunger was born! Michel discovered the world of Woody Guthrie and Lead Belly. Alan Lomax's field recordings and the Beat Generation, writers as Jack Kerouac and poets like Allen Ginsberg became a great inspiration, so much even that his first travel to the US brought him to the homes, hotels and book stores where they lived and worked! Other great influences were songwriters as Eric Taylor, David Olney, Townes van Zandt & Clive Gregson.

Highlights are the shows in 2007 & 2008 with his band Gravel Town at the Benatska Noc festival in the Czech Republic. Michel's long career as a solo performer includes many shows at festivals throughout the Netherlands like Oerol, De Parade, Gluren bij de Buren, StuKaFest & Fringe Festival.
The Present
On Christmas Day 2015 Michel released a new single A Letter from Dreamland - First Snow will fall Tonight, a song Michel wrote for his partner's niece, who after a sickbed of five weeks died of liver failure, the week before Christmas. Michel, his partner and her family decided to donate all earnings to the Dutch Liver Patients Association in support of other people who have a similar condition!

Emma's Diary was released July 1st, 2016, along with a video, leading up to the release of Michel's album Inertia. Inertia will be Michel's first full length solo album and is expected at the end of 2016, beginning 2017. The album will contain more than just music alone! It will include stories, poetry written and photos taken by Michel, during his travels trough the US.

Inertia is a project Michel has been working on for the last seven years, featuring contributions of more than 25 musicians and artists from different parts of the world (the Netherlands, the US, Turkey, Germany and Israel).

Gravel Town - Michel's band - released their debut album 'From Grace' in September 2014. Ten songs were recorded in France and The Netherlands in 2013/2014 and mixed by Michel in 2014. From Grace is critically acclaimed and has recieved a lot of positive reviews. Gravel Town has been compared to the biggest Americana & country-rock bands from the US and From Grace has been called one of the best albums produced in the Netherlands in 2014, with strong, thoughtful lyrics and powerful lead vocals.

Gravel Town is currently working on their second album, called 'The History of Gravel Town'. It will be released in different chapters. Chapter III - Single Men was released in November 2015 and the second part Chapter I - Family, will be released in September 2016!

Also, next to his own music, Michel works as a producer, engineer, co-writer and multi-instrumentalist with other artists like Bregje Sanne Lacourt, Martha Jane Settler, Anja Wessels, Linda Kreuzen and bands as Halfway Station at his own studio, Tempting Tunes Studios.
Last thoughts
"Writing - poems, stories and of course songs - is something I remember doing all my life. It's not by choice, it feels as something I must do"

"I had musical lessons since the age of 7 in music theory and learned to play the wooden flute. It never really interested me, but when I discovered the guitar at the age of 12 I was sold. At the same time I dug up the old reel-to-reel tape recorders belonging to my dad, together with a couple of microphones. I started recording right away, I thought it was magic! I bought a cheap keyboard, a mixing desk and a drum computer and before I knew it I'd built my first little studio in my room.

With a couple of friends we started a band. My whole adolescent age I only remembered doing just that, writing, recording, rehearsing and performing with my band. I guess really nothing much has changed..."
Follow Michel Ebben
Find out more about Michel's music and the making of his album 'Inertia'. We'll keep you updated with photos, music & videos.
Michel's Diary | August 18, 2017
"My new album Michel Ebben Live 2013-2017 is out now, together with the music video for Ring of Fire. Check it out!"
Follow Michel on Instagram!
Upcoming shows
Find out where Michel is playing near you! Dates are added constantly, so check this section every now and then! For all coming and past shows, look here.
November 26, 2017 | 2.00 pm
Ever After's Songwriter Circle
Studio de Bakkerij
Rotterdam | NL
Michel Ebben, Mark Ritsema
& Corvin Silvester
December 3, 2017 | 2.00 pm
Ever After's Songwriter Circle
Rietveld Theater
Delft | NL
Michel Ebben, Half Way Station
& T.B. Florusse
November 11, 2018 | 8.30 pm
Atelier Winterdijk 30b
Waalwijk | NL
Michel Ebben
Look here for all upcoming shows.